BRIAN MCGRORY AUTO BODY REPAIR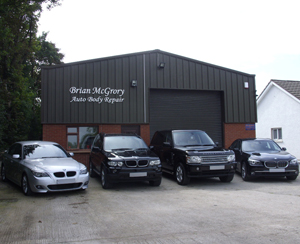 In the event of an accident or body repair make sure your first call is to Brian McGrory Auto Body Repair, Enniskillen, Co Fermanagh, 02866 326395 We repair all makes and models of cars and light commercial vehicles. We can handle your insurance claim and deal directly with your insurance company, helping you to relax in the assurance the claim is being progressed smoothly.
Our body shop has been open for over 20 years and offers the highest quality body repairs and paint spraying. If you are looking to have your vehicle professionally maintained or repaired then we can offer a first class service.
Using state of the art equipment, A car-O-Liner Measuring System, Car Lift, USI Italia Energo Spray booth and Oven with Mixing Room, PPG High Performance Water based Paint Mixing Scheme, we can guarantee a professional process of repairing your damaged vehicle.
Exercise your right to choose where you have your vehicle repaired, with Brian McGrory Auto Body Repairs You Are in safe hands all the way.